ELY RUNNERS
MINUTES OF ANNUAL GENERAL MEETING,
PARADISE CENTRE, ELY, MONDAY 7th FEBRUARY 2011
Present (23) Stephen Howard, John Turner, Peter Harris, Charlie Barker, Julie Foreman, Mary Gates, Martin Courtney, Heidi Uff, Eric Drury, Darren Murfitt, Alan Rutterford, Lesley Wright, Stephen Tovey, John Glover, Stuart Baumber, Tony Hall, Simon Jackson, Lionel Smith, Adam Etches, Kieren Drane, Sarah Edwards, Matt Holmes, Bob Shortland
Apologies (6) Daniel Regan, Emily Knight, Alex Tate, Stephen Pettit, Ian Day, Craig Holgate
Chairman's Opening Remarks on 2010
1. Chairman Stephen Howard opened the meeting at 7:35 pm. He said the club had been going for over 25 years and now has two open events, four club events, a growing Junior Section, and over 150 members giving support to a committed Committee.
Matter Arising from the 2010 AGM Minutes
2. John Turner said these had been circulated and were on the website. There were no matters arising.
Treasurer's Report
3. Peter Harris presented the 2010 income and expenditure accounts for the club, Grunty Fen Half Marathon, and New Year's Eve 10k. Also stock details and a balance sheet. There had been a reduction in net surplus of income from £6,494.02 to £4,913.36. The reduced 2010 surplus was mainly due to reduced overall profit from the Grunty Fen Half Marathon and to some extent from the New Year's Eve 10k – see reasons below. The income from subscriptions was only £1,341.02 and this would need to be 3-4 times more without the income from open events, which depended on help from members.
4. Current assets included £500 to keep open the Scottish Widows (interest) Treasury Account, £15,081.74 in the Cambridge BS General Account, £20,971.73 in the Cambridge BS Track Fund Account, and £5,252.29 at the bank. After deducting current liabilities of £3,905.27, the net current assets were £39,671.68 represented in the accumulated fund balance by £14,758.32 b/f from 2009 plus the £4,913.36 surplus of income over expenditure for 2010 and the original £20,000.00 allocation to the track fund as below
5. Subject to continued agreement by members at the AGM, £20,971.73 of the accumulated fund balance had been set-aside for the Track Fund. This comprised of the original £20,000 + JT £455 LM sponsorship + Waitrose £330 shopper sponsorship + interest £186.73 = £20,971.73.
6. There was no income or expenditure for the Turing Trail Relay as this was organised as a private club event in 2010.
7. The Grunty Fen Half Marathon had a slightly reduced entry income but the reduction in overall profit from £4,940.49 in 2009 to £3,376.29 in 2010 was mainly due to £925 less sponsorship income (2009 included a one-off £600 bed debt recovery from 2008), additional expenditure in 2010 of £105 more on Sweatshop prize vouchers, £50 for t-shirts for marshals, an extra £300 donated to charity, and £925 less in sponsorship income. However, there was £105.38 less spent on first aid in 2010 due to increased St John Ambulance cover eliminating the need for paramedics.
8. The entry income for the New Year's Eve 10k was £665.25 higher in 2010 due to an increase in entry fees but the profit was reduced from £4,062.97 in 2009 to £3,590.86 in 2010 due mainly to £285 for the mobile toilets (which didn't arrive and weren't paid for in 2009), £217 for previously donated Sweatshop prize vouchers, and £500 donated to charity in 2010.
9. The opening stock of club kit (not including the subsidised fleeces) was £751.00 and the closing stock £1,265.50
10. Stephen Howard thanked Peter Harris for his detailed presentation of the accounts and dedicated work as Treasurer. The accounts were accepted (pJT/sMG).
Secretary's Report
11. As most of the Secretary's business was well documented in the club Newsletters and emails, John Turner instead reflected on standing down as Secretary after 24 years. He had enjoyed being involved in the evolution of the club and thanked members for putting up with him for so long. John recalled his first Sunday training run with the club from the Paradise in August 1986 (with Tony Hall and Barry Garfoot) to Chettisham and back. Tony Hall remarked "that was a long way then!" Like any new member, John was anxious that he would not be able to keep up.
12. He praised Alan Rutterford and Leslie Wright for the growth of the Junior Section and asked members to give them their support because the Juniors were the future of the club. John also mentioned how the club's potential would eventually be limited unless it became track-based.
13. John was also standing down as Race Director Open Events and said that the Grunty Fen Half Marathon still had considerable potential for development.
Team Captain's Report
14. Charlie Barker said that although he enjoyed being Team Captain, he was standing down due to work commitments. He there had been a high standard of racing but the club needed to address the problem of members being entered for championships and then not running. The 2010 Grunty Fen had been the 20th time this race had been held and he thought the event had great potential. He thought the Juniors were doing well and thanked Alan Rutterford and his helpers for their input.
Club Coach's Report
15. Alan Rutterford presented his 1 page report, the text of which is attached to these minutes.
Junior Section Report
16. Alan Rutterford presented his 2 page report, the text of which is attached to these minutes.
Election of Officers and Committee Members
17. The club's Officers (Chairman, Secretary and Treasurer) and six Committee Members were proposed, seconded and elected as follows:
Secretary/Membership & Club Website - Steve Tovey (pJT/sDM)

Treasurer - Peter Harris (pJT/sDM)

Training – John Turner until moves (pST/sDM)

Club Captain - Heidi Uff (pJT/sDM)

Assistant Captain - Sarah Edwards (pHU/sDM)

Club Time Keeper/Watches & Club Kit - Emily Knight (pMG/sDM)

Club Coach & Junior Representative - Alan Rutterford (pJT/sDM)

Junior Section Secretary - Lesley Wright (pJT/sDM)

Social Secretary - Julie Foreman (pSB/sDM)

Club Newsletter Editor - Martin Courtney (pJT/sDM)

Press Liaison & Race Reports – Stuart Baumber (pJT/DM)
Election of Events Working Group
18. This group comprises members with specific responsibilities for open and club events. The following were proposed and elected:
Race Director Open Events – Stephen Howard (pST/sMC)

Assistant to Race Director – Stuart Baumber (pJT/sMC)

Course Director Open Events and Stores – Martin Courtney (pJT/sSH)

Race Entries – Julie Foreman (pST/sMC)

Race Websites and Results – Steve Tovey (pJT/MC)

Sponsorship & Community – Sarah Edwards (pSH/MC)

Club Private Events (XC, TTR, 10kH, 1mH) – Matt Holmes (pST/MC)

Trophies (

Kevin Fox to manage trophies on an ex-EWG basis)

Chief Marshal Open Events – John Glover (pJT/MC)

Assistant to Chief Marshal – Darren Murfitt (pSB/sMC)

Start/Finish Areas & Chief Place Keeper Open Events – Simon Jackson (pJT/sMC)

Chief Time Keeper – Emily Knight (pSB/sMC)

Refreshments – Graham Chapman (pJT/sMC)

Assistant Refreshments – Mary Gates (pJT/sMC)

Assistant to Course Director (set up/clear) – Eric Drury (pJT/sMC)

Frostbite Friendly League & Long Distance Relays – Alan Rutterford (pJT/sMC)

RNR Team Managers – Open (Alan Rutterford), Club (Simon Jackson) (pJT/sMC)

Photographer (Events & Websites) – Charlie Barker (pST/sMC)
Review of Club Subscriptions for 2011-12
19. Peter Harris proposed (sSH) and it was agreed that
:
Joining fee £35 (same as 2010-11) including race vest and shorts

Members joining after 15th November will be paid up for the following year

Renewal fee to remain at £10 but late payment after 31/3 to be £20

Membership and renewal fees to be fixed to the end of the next financial year (31st December) to facilitate renewal due on 1st January and no later than 31st March to continue membership.
Renewal of Affiliations/Registrations/Joining
20. There were proposed for renewal as follows:
ARC - and continue with open event ARC permits (pJT/sMH)

ABAC - represents and lobbies for interests of clubs (pJT/sMH)

UKA - and fund EA registration (currently £5) for 1st claim members who require block registration by the Secretary on 1st April otherwise they will have to apply and pay for this themselves (pSH/sMH)

SEAA Competitions Ltd - provides championships in the SE region (pJT/sMH)

CAA - provides championships for Cambridgeshire (pJT/sMH)

GCAN - Greater Cambridge Network of Clubs, especially to support Juniors (pJT/sMH)

Friends of the Roman Road & Fleam Dyke (pJT/sMH)
21. Stephen Howard mentioned that performances in ARC permit events are no longer allowed for the UKA 'Power of 10'. John Turner said that this was unlikely to be a problem because most such performances were normally in championships or major events, and not in the club open events with ARC permits.
Club, Open and League Events 2011-2012
22. It was agreed that the Committee and Events Working Group should organise the following events:
Club Turing Trail Relay on 3rd Sunday in March in 2011 between balanced club teams using revised (3) stages course with both changeovers at Waterbeach and turning on the bridge by the Green Dragon pub (pSH/sST)
Open Turing Trail Relay on 3rd Sunday in March 2012 as part of the Alan Turing 100th Anniversary Year (because authorisation at the 2012 AGM would be too late to plan an open event) but subject to

the Committee working on this proposal and how it could be done yet retaining the right to reject the 2012 TTR as open event

(revised authorisation pSH/sMG)
Club 10k Handicap on 2nd Thursday in June (pSH/sST)
Club One Mile Handicap on 2nd Thursday in July (pSH/sST)
Grunty Fen Half Marathon on 2nd Sunday in September including (if offered) the ARC Championships, Cambs County Championships, and Cambs Road Race League
Rotary Club of Littleport and Witchford College support for Grunty Fen Half Marathon
23. Stuart Baumber reported that the Rotary would provide marshals but not joint management. He said that the Head of Witchford College had met with the Rotary and discussed outline proposals to expand the race with a charity and junior involvement.
Club entry into relay, team and league events 2011-2012
24. It was agreed that the Committee could enter club teams for:
Round Norfolk Relay (Open and Club Teams) and Wissington changeover with 4-5 staff (pSH/sHU)

National, Regional, Area and County Championships including relays with JT's suggestion of a deadline for team entries by the club two weeks before the closing date and, if by then, there were insufficient members to make a team, individual members would have to make and pay for their own entries (pCB/sHU)

Frostbite Friendly League including marshals for Race 6 in March 2011 (pSH/sHU)

Hereward Relay (including helping March AC from Lt Downham and with finish) (pSH/sHU)
Track Fund
25. The £20,000 set aside for the Track Fund at the 2010 AGM and additional income for this project of £971.73 = £20,971.73 (see Treasurer's report) to remain allocated subject to review and re-approval at the next AGM or, if necessary, at an EGM (pJT/sSH).
26. John Turner said that he'd today spoken to Katie Childs (Head of Forward Planning at ECDC) who had spoken with Giles Hughes (Head of Planning) who said that whilst there was no current funding for the Southern Bypass, ECDC still wanted this to happen. Therefore the King's School could not release part of Brand Field for a community athletics track whilst Amherst Field could be lost to the bypass. This meant that another site would need to be found such as land that ECDC have on the bypass or on the Paradise field. Ms Childs had said that ECDC were looking to use development of the Paradise Centre and swimming pool site to help fund the new Leisure Centre (and a running track was not included in the planning application) on the bypass adjacent to the Downham Road. JT said that he had reminded Ms Shields that the Paradise area had been donated for sporting use. She had mentioned that there was a 75-year lease held by the Paradise Committee (Note: Ms Shields had suggested that we should discuss the track with ECDC's Sports Development officer Tom Hickson).
Presentation of Trophies and Awards for 2010
27. Following extensive review and discussion of 2010 performances, the Committee agreed (with recommendations from Alan Rutterford and Lesley Wright for the new Junior trophies) that the following members be awarded the Club's Annual Trophies. Stephen Howard presented the trophies:
Eric Drury Shield Most Improved New Member: Sarah Edwards
Most improved Male Runner: Kieren Drane
Most improved Female Runner:Nicola Bramley
Best 10 km: Ian Day
Best Half Marathon: Stuart Baumber
Eric Drury Cup Best Marathon: Craig Holgate
Most improved Male Junior (new trophy): Fraser Crossman
Most improved Female Junior (new trophy): Esme Wright
28. Chairman Stephen Howard announced the 2011 Ely Runners Special Achievement Awards which are decided by two and/or three of the club's three officers. Stephen Howard and John Turner presented engraved pewter tankards to:
Charlie Barker – Club Photographer & Committee Appointments 2005-2011; Event support, trophy cabinets & shields
Emily Knight - Race Timekeeper 2009-2011
Heidi Uff - Milton parkrun 2010-2011
Mary Gates - Club Kit & Committee 2007-2011
Simon Jackson - Round Norfolk Relay 2009-2010
Stephen Howard - Chairman 2009-2011, Club Results 2008-2011; Finish Area 2008-2010
Stephen Tovey - Club Events 2009-2011, Websites & Membership 2010-2011
29. Stephen Howard made additional presentations as follows:
Peter Harris - Honorary Membership (Treasurer 2001-2011)
John Turner - 25 years loyal service (Cathedral's Express voucher)
30. Alan Rutterford made a special presentation of a bouquet of flowers to Junior Secretary Lesley Wright for her work, help and support with the Juniors.
Paradise Centre Club Membership
31. It was agreed to continue with the club membership (due 1st October) of the Paradise Centre for members to change and shower free of charge after training or races (pJT/sSE).
Proposals for Expenditure in 2011-12
32. Proposals (JT/sCB) were approved for the club's Officers or Committee (subject to the Treasurer's advice on the threshold reserve of funds) to authorise reasonable expenditure, to the benefit of the club and its members, including the following:
Running/training/stretching/injury books for members to borrow

To continue to supply members with a first subsidised fleece at £10 and then at the cost price for subsequent fleeces

Food after the 10k Handicap, One Mile Handicap and for the Christmas Drinks

Club team entries for relays, league membership, and championships

Fund appropriate courses (subject to commitment) for members

Supplies for events, equipment for club use, race kit, and bibs for night training

Mileage at 30p/m for official duties on behalf of the club and/or carrying stores from/to Ely or HQ for the club's open races, selected teams in events, and training events

Electronic race processing and recording equipment

Trophies

Charities
Conditions for the Club's London Marathon Places
33. Mary Gates proposed (sSE) that to qualify for the club's draw, rejected ballot members should have helped at club events. As members present thought that this would be diffcult to manage, the proposal was not carried.
34. The following conditions were approved:
Only applicants for ballot places (pJT/sSH)

Paid-up member when applied for a ballot place (pST/sSH)

Made only one application for a ballot place in one year (pJT/SH)

Have been rejected for a ballot place (pJT/sSH)

Can show proof of rejection for a ballot place (pJT/sSH)

Not hand over a club place to another runner (pSH/sJT)
(post-meeting note: unless by the official substitution system)
Grunty Fen T-Shirt Design Competition (Juniors)
35. Stephen Howard said that the entries were of a high standard. They were circulated to members present by Junior's Secretary Lesley Wright to initial the back of their favourite design. The winner by a narrow margin was Molly Butler and her design would be circulated in the next club Newsletter and sent to the T-shirt printer in due course. Molly was presented with some confectionary as an award.
Any other business
36. Purchase of a club camera (pSE/sCB) was left to the Committee to decide. Charlie Barker offered his lightly used SLR.
37. The FFL Presentation Evening was on Sat 14 May – tickets £12.50. Alan Rutterford said that Lesley Wright and he had decided that Alexander Ellwood and Molly Butler would be the club's Junior M/F Runners of the Series.
38. Stephen Howard mentioned that handovers of appointments could be discussed at the next Committee meeting and reminded members present that Committee meetings are open to all other members to attend and take part, but not to vote.
39. Peter Harris invited members to pay any outstanding subscriptions after the meeting.
40. Stephen Howard reminded members present to help themselves to the remaining bottles of 'Starter's Orders' beer left over from the NY10k.
41. There being no other business, Stephen Howard closed the meeting at 10:01 pm.
See reports below (coaching & junior section)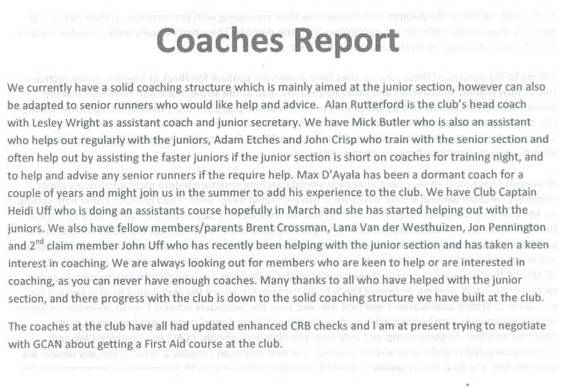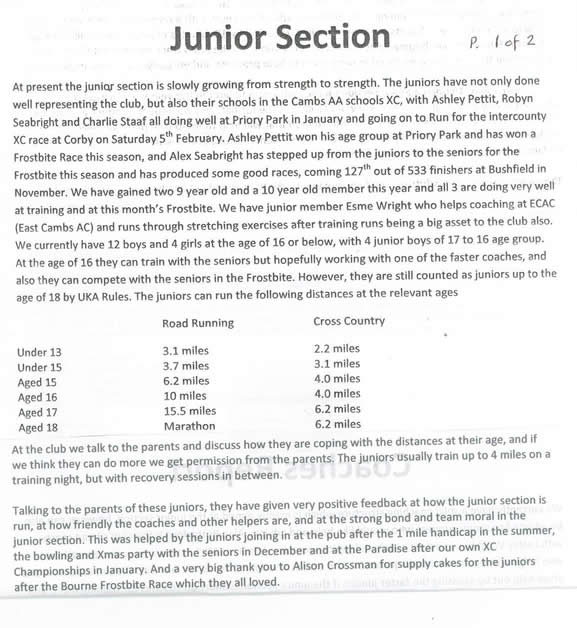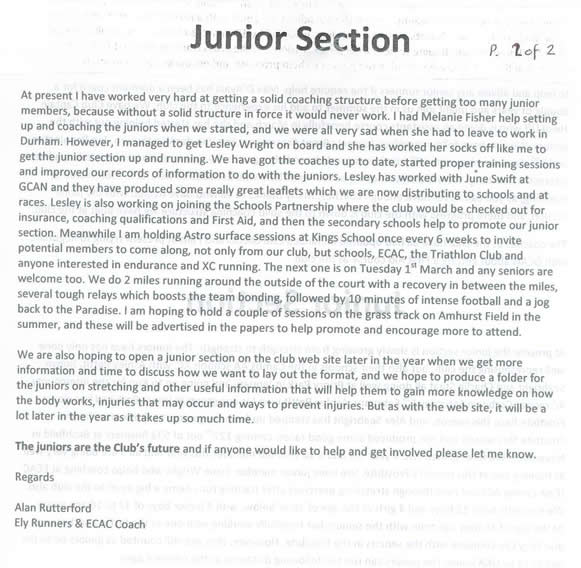 JT 26.03.2011