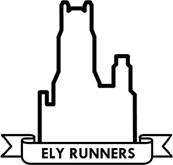 MINUTES OF ELY RUNNERS ANNUAL GENERAL MEETING,
PARADISE CENTRE, ELY, MONDAY 4th FEBRUARY 2013
Present (24) Stephen Howard, Stephen Tovey, Peter Harris, John Turner, Charlie Barker, Darren Murfitt, Alan Rutterford, Lionel Smith, Matt Holmes, Lesley Wright, Samantha Collins-Shirley, Martin Courtney, John Crawford, Daniel Waite, Alan Cushing, Stuart Baumber, Sarah Edwards, Steve Presland, Alison Blaney, Karen Law, Martin Ineson, Lee Thompson, Conan Fryer, & David Mould. Fletcher Collins-Shirely and Faye Palmer were present to accept their awards.
Apologies (10) Daniel Regan, Emily Knight, Alfredo Verna, John Glover, Naomi Course, Melanie Wiffin, Andy O'Hanlon, Eric Drury, Gary Wilberforce and Jon Evans
Chairman's Opening Remarks on 2012 (Stephen Howard – SH)
1. SH opened the meeting at 7:35 pm. He thanked those present for attending and read out the list of apologies. SH commented that 2012 had been a good year for the club, with both open events selling out, the continued development of the junior section and the advent of the club's first beginners courses – all in addition to continued running success for both individuals and representative teams. SH said it was fantastic to see 30-40 seniors and 20-30 juniors regularly attending training.
SH then presented the junior awards for 2012 (as decided by junior section coaches):
Most improved Male Junior 2012 - Fletcher Collins Shirley
Most improved Female Junior 2012 – Faye Palmer
Matters Arising from the 2012 AGM Minutes
2. ST said these had been circulated and were on the club website. There were no matters arising.
Treasurer's Report 2012 (Peter Harris - PH)
3. PH presented a comprehensive report on the state of the clubs finances. Total income was up significantly in 2012 (£9955.01) compared to 2011 (£8731.99); this was due to increased race profits, increased membership subscriptions, beginners-course income and increased bank account interest compared to 2011. Net profits on the club's open events increased slightly (£6928.32 versus £6729.78 in 2011) mainly because of increased entry numbers at Grunty Fen. Total expenditure increased slightly from £5399.27 (2011) to £5499.52 (2012), mainly due to coaching, affiliation and entry fees as expenditure at internal club events was generally down. The net surplus of income over expenditure was £4455.52 (up from £3332.72 in 2011). As last year PH again stressed that although we are, in the short term, in a very strong position financially, the medium to long term may be less strong and is dependent upon the continued success of the club's open events. PH said that expenditure had levelled out compared to 2011, but the club had seen an increase in income due to increased revenue from open events and increased membership. PH said despite the levelling off expenditure was still running at a level about 3-times higher than income from membership subs. Hence PH's proposal later in the evening to increase membership subs again in 2014 to a more long term sustainable level.
Grunty Fen saw an increase in operational profit from £3055.55 in 2011 to £3951.03 in 2012. This was mainly due to an increase in the number of entries. The increase was achieved despite an increase in the cost of chip timing, the cost of a new trophy and increased charitable donations.
The NYE 10k saw a slight decrease in profit from £2974.23 in 2011 to 2277.29 in 2012. Revenue from entries remained roughly constant, but a decrease in profits was due to increased costs of SJA, T-shirts and an increase in charitable donations.
The club's net current assets as at 31/12/2012 are £47,459.92 with £25,775.79 in general funds and £21,684.13 retained in the club's track fund.
SH thanked PH for his detailed presentation of the accounts and dedicated work as Treasurer. It was proposed that the accounts should be accepted (pSH/sST) and this was agreed unopposed.
Secretary's Report 2012 (Steve Tovey – ST)
4. ST thanked PH for his comprehensive presentation of the club's finances. He also thanked the committee/EWG for their hard work and contributions throughout 2012. He then thanked everyone involved with making the club's open events a success – in particular outgoing race director Stephen Howard, outgoing Chief Marshal John Glover, outgoing race director Martin Courtney – and the ever reliable 'Entry Supremo' Julie Foreman. ST acknowledged the hard work of Matt Holmes in organising club events and RNR team managers Alan Rutterford & Samantha Collins-Shirley for keeping everyone going over the RNR weekend. ST then acknowledged the hard work of Alan Rutterford, Lesley Wright, Samantha Collins-Shirley and their coaching team in the continued development of the junior section. ST then thanked everyone involved with the club's 1st beginner's courses, in particular Lionel Smith, Conan Fryer, Peter Harris and Emily Knight who were involved from the start and helped make both courses a success. ST said there had been 50 people on the summer course and 25 people on the winter course. ST then said that the next 10-week course would begin on Monday April 8th, with a parallel 'intermediate' course running alongside. He mentioned that input/thoughts on either course would be welcome.
In terms of membership, ST said that 2012 had seen the club exceed 200 members for the first time. At the end of 2012 the club had 230 members, although after a few non-renewals the current figure stood at 223 (with 61 juniors U18). ST said there would probably be a few comings/goings ahead of the March 31st deadline for membership renewal and he also took the opportunity to remind people that outstanding membership subs should be paid ASAP.
Team Captain's Report (Lionel Smith – LS)
5. LS gave a month by month review of the racing year, starting with the CAA XC championships in January and finishing with the NYE10k in December. LS drew particular attention to the long-distance efforts of Craig Holgate (winner of the Thames Trot 50, Thames Towpath 100; Shires & Spires 35 and 3rd in the Anglo-Celtic Plate representing England) as well as Emma Greaves and Miranda Paul (Moonlight Challenge, Shires & Spires, Round Ripon and Druid's Challenge). LS acknowledged the performances of Daisy Glover (1st lady Norwich HM, Grunty Fen HM, NYE10k & Abington 10k) and Craig Holgate (1st Great Yarmouth Marathon). There were also race wins for John Manlow (Marham 10), Robin Webb (Mud & Mayhem 10k); Nick Dyer (City to City), Heidi Uff (Chilly Filly 5k); Martin Ineson (Lakenheath 10k) and Alison Blaney (Lakenheath 5k). John Manlow (MV40), Stephen Pettit (MV45), Graham Chapman (MV55) and John Turner (MV65) racked up numerous vet category wins. LS said there were 13 ER in the London Marathon with Stephen Pettit first home in 2:54:11. The club also had a big representation at the Littleport 10k (20), East Cambs HM (19) and Cambridge HM (17). LS said it was encouraging to see the number of new members taking part in the Frostbite XC series and also the Milton Parkrun (21 at one event). The club's internal events were well attended and had been won by Robin Webb/Zoe Shackleton/ Graham Chapman (club XC); Fran Crawford/Alex Tate/Miranda Paul (10k HK); Stuart Baumber/Sarah Edwards/ Alex Tate/Linden Smith (1m HK); with the club's Turing Trail Relay being won by a guest team represents St. Radegund RDC. The club continued its successful run at the RNR, claiming 2nd place overall and winning the Visitors Cup, Open Class and Long-Distance ARC relay.
Training Report (John Turner – JT)
6. JT said training was being regularly attended by 20-40 seniors and 20+ juniors, with impressive levels of enthusiasm and commitment. He went on to say how the club now had multiple training groups with seniors, juniors and beginners. He also said how the increase in membership had manifested itself with a record turn-out at the club's Christmas Woodditton run with three mini-buses being required for the first time. JT said he was particularly pleased to see several runners from the summer's beginner's course taking on the opening section of the Christmas run from Woodditton to Reach.
Club Coach's Report (Alan Rutterford – AR)
7. AR said that coaching within the club was developing rapidly and there were now 15 active coaches/run leaders compared to just Alan and Max a few years previously. AR said different coaches were involved in developing different groups within the club (juniors, beginners, seniors) and he was going to start compiling a database of coaches with their relevant qualifications and interests. AR said he intended to take an 'over-arching' role as head coach at the club, making himself the point of contact for new coaches, existing coach development, coaching courses & course funding. AR said he'd be working closely with GCAN to progress the club towards achieving the coaching standards required to obtain the nationally recognised Clubmark Award.
Junior Section Report (Lesley Wright – LW)
8. LW said there had been a rapid increase in junior membership, with the number going from 34 in March to 61 in December. The club had paid for several assistant coach courses during 2012 and 8 coaches were now taking charge of three different ability groups. LW said she'd prepared and circulated a document that provided guidelines for training and she also said that at least one coach with each group carried a mobile phone. LW said she would be remaining as junior secretary and would be responsible for organising the junior section, but she would be handing over membership duties to Samantha Collins-Shirley and so had proposed a new committee position for Sam. The junior section had helped organise and run the Grunty Fen fun run and this had been a success and had raised £200. The King's School Astro, Amherst field and Brand field would continue to be used for junior training sessions. The juniors had been enthusiastically attending the Frostbite series in large numbers and are currently joint 5th in their league. Finally, ER had a stand at the upcoming Ely Youth Festival and so LW asked for any willing volunteers to help at the event.
9. Election of Officers and Committee Members
The club's Officers (Chairman, Secretary and Treasurer) and nine Committee Members were proposed, seconded and elected unopposed as follows:
Chairman - Stephen Howard (pST/sMH)

Secretary/Membership & Club Website - Steve Tovey (pSH/sJT)

Treasurer - Peter Harris (pST/sCF)

Training - John Turner (pST/MI)

Men's Captain & social Secretary - Lionel Smith (pST/sDMo)

Ladies Captain – Sarah Edwards (pDMo/sKB)

Club Welfare Officer & Trophies - Charlie Barker (pST/sMH)

Club Time Keeper/Watches & Club Kit - Emily Knight (pST/sDMu)

Club Head Coach - Alan Rutterford (pST/sMC)

Junior Section Secretary - Lesley Wright (pST/sSCS)

Junior Representative – Samantha Collins-Shirley (pST/sAR)

Race Reports, Press Liaison & Newsletter Editor - Matt Holmes (pST/sJT)
10. Election of Events Working Group
This group comprises members with specific responsibilities for open and club events. Two 'on the day' positions remain vacant. The following were proposed, seconded and elected unopposed:
Race Director Grunty Fen HM – John Crawford (pST/sSH)

Race Director NYE10k – Martin Courtney (pST/sCB)

Deputy Race Director Open Events – Naomi Course (pST/sAB)

Open Event Sponsorship – John Turner (pST/sSH)

Course Director Open Events and Stores –

Vacant

; but MH willing to act as assistant

Race Entries - Julie Foreman (pST/sCB)

Race Websites and Results - Steve Tovey (pJT/sJT)

Club Private Events (XC, TTR, 10kH, 1mH) - Matt Holmes (pST/sMC)

Chief Marshal Open Events & Chief Time Keeper Emily Knight (pST/sCF)

Assistant to Chief Marshal - Darren Murfitt (pST/sMH)

Start/Finish Areas Open Events -

Vacant

Event Refreshments - Graham Chapman (pST/sLT)

Assistant to Course Director (set up/clear) - Eric Drury (pST/sCB)

Frostbite Friendly League & RNR Open Class Team Manager - Alan Rutterford (pST/sAC)

Hereward Relay Team Manager – Matt Holmes (pST/sMC)

RNR Club ClassTeam Manager – Samantha Collins-Shirley (pAR/sDM)

Photographer (Events & Websites) - Charlie Barker (pST/sLS)
11. Chairman and outgoing race director SH reiterated the importance of the success of the club's open events and the need for volunteers for key positions. He mentioned how the success of the events allowed the club to fund coaching and contribute towards local events (i.e. Parkruns) and charities.
Review of Club Subscriptions for 2014
12. PH proposed (pPH/sST) and it was agreed unopposed that;
Renewal fee to increase to £20 (seniors), £10 (juniors U11) & £20 (juniors 11-17 – includes £10 EA-affiliation**) in 2014. Late payment after 31/3 or renewal of elapsed membership to increase to £40. In conjunction the joining fee will also increase in 2014 to include the increase in membership fee.

Joining fees to increase to cover the cost of Paypal Payments to ensure no losses are made on the purchase of club kit.

Membership and renewal fees to be fixed to the end of the next financial year (31st December) to facilitate renewal due on 1st January and no later than 31st March to continue membership. ** Assuming £10 EA-affiliation.
In support of the proposal PH mentioned that the club were good value and considerably cheaper than many other local running clubs. PH reiterated that increasing subs to £20 would allow membership fees to cover more of the club's expenses and make the club less reliant on making profits from open events.
13. ST proposed (pST/sSH) and it was agreed unopposed that the constitution be amended to change the cut-off date for joining from 15/11 to 1/10 – i.e. anyone joining after 1/10 in any given year will also be paid up for the following year.
14. ST clarified the club's current position on EA-affiliation. The club is affiliated to EA. Individual EA affiliation is compulsory for 11-17 year olds (and the cost is included in the membership renewal); but individual EA affiliation for seniors was voluntary and up to individual members.
15. There was a discussion about the criteria for the allocation of the club's London Marathon place(s) given that the club was only awarded one place for 2013 as places are now based on the number of EA-affiliated members rather than total membership of an EA-affiliated club. It was proposed (pST/sMH) and agreed unopposed that the club adopt the following criteria for the allocation of club places for the London Marathon:
You must have been rejected for a ballot place.

You must have been a paid up member when you applied for a ballot place

You must be able to show proof of rejection for a ballot place.

If awarded a place you must not hand over a club place to another runner (unless to via an official substitution to the nominated ER reserve via the club secretary).

You must abide by the rules of the London Marathon.

You must hold an individual affiliation to EA

Starting from 2014 onwards – if you are the recipient of a club place through the club draw you will then be ineligible to take part in subsequent draws for 3 years.
Renewal of Affiliations/Registrations for 2013-2014
16. It was proposed (pST/sMH) and agreed unopposed to renew affiliations to the following organisations:
ARC - and continue with open event ARC permits

ABAC

UKA (note: club affiliation only; members(apart from juniors aged 11-17) are responsible for paying their own individual affiliation fee which is £10 for 2013-2014)

SEAA Competitions Ltd

CAA

GCAN

Friends of the Roman Road & Fleam Dyke

Gog Magog Trust
JT commented that it may be unnecessary to continue to support the latter two as training sessions on the Roman Road and Gog Magogs had been poorly attended in recent times. However, given the nominal sum of money involved it was decided to continue with membership.
Club, Open and League Events 2013-2014
17. It was proposed (pSH/sST) and agreed unopposed that the Committee and Events Working Group should organise the following events:
Club entry into relay, team and league events 2013-2014
18. It was proposed (pSH/sST) and agreed unopposed that the Committee should enter club teams for:
Round Norfolk Relay (Open and Club Class Teams) and provide marshals for the stage 14-15 changeover (4-5 members)

National, Regional, Area and County Championships including relays

Frostbite Friendly League

Hereward Relay (including helping March AC from Lt Downham and with finish)

Kevin Henry League (KHL) for a trial season
Regarding the KHL, ST said that he'd been approached by several members who were interested in taking part in the league. After e-mailing the club ST received ~15 positive responses and so he approached the KHL league about taking part in 2013 and they agreed to accept ER for a trial year. The KHL league is a once a month summer 5k race series with events on Thursday nights in May (NewmarketTri, Impington); June (Saffron Striders; Saffron Walden); July (Newmarket Joggers; Newmarket); August (Haverhill RC; Haverhill) and September (C&C; Cambridge). ST said how he liked the scoring system – with men and women scoring separately (1st 6 men and 1st 4 ladies to score); but every non-scorer also counted as -1......making it beneficial to get a good turn-out.
Track Fund
19. The £20,000 (+ accumulated interest) set aside for the Track Fund at the 2010 AGM and additional income for this project (current fund standing at £21,684.13) to remain allocated subject to review and re-approval at the next AGM or, if necessary, at an EGM (pJT/sSH) and agreed unopposed. JT commented that progress towards a track in Ely was on course but slow going and this was primarily down to the ongoing uncertainty about the route of the Southern bypass.
20. Presentation of Annual Trophies and Awards decided by the committee (ST/SH):
Eric Drury Shield for the Most Improved New Member 2012 – Daniel Waite
Most improved Male Runner 2012 – Stephen Starr
Most improved Female Runner 2012 – Melanie Wiffin
Best 10km 2012 – Stephen Pettit (GEAR 34:55 – best AG 84.04%)
Best Half Marathon 2012 – Daisy Glover (1st lady Norwich HM; 3rd lady Cambridge HM 1:19:46 best AG 83.85%)
Eric Drury Cup for the Best Marathon 2012 – Craig Holgate (1st at Great Yarmouth 2:39:15; fastest & Best AG 79.63%)
Special Achievement Awards 2013 for 2012 decided by the club's officers:
21. Proposed (pST/sPH) and agreed unopposed to continue with club membership (due 1st October) of the Paradise Centre for members to change/shower FOC after training or events.
22. Proposed (pST/sSH) and agreed unopposed for the club's Officers or Committee (subject to the Treasurer's advice on the threshold reserve of funds) to be authorised to allow reasonable expenditure, to the benefit of the club and its members, on and including the following:
Running/training/stretching/injury books for members to borrow

To continue to supply members with a first subsidised fleece at £10 and then at the cost price for subsequent fleeces

Food after the 10k Handicap, One Mile Handicap and for the Christmas Drinks

Club team entries for relays, league membership, and championships

Fund appropriate courses (subject to commitment) for members

Supplies for events, equipment for club use, race kit, and bibs for night training

Mileage at 30p/m for official duties on behalf of the club and/or carrying stores from/to Ely or HQ for the club's open races, selected teams in events, and training events

Electronic race processing and recording equipment

Trophies

Support of new, local area races attended by and for the benefit of members

Charities
23. Any other business
Proposal (pSB/sJT) and agreed unopposed for the club to name a trophy in honour of founding member Tony Hall. After a brief discussion it was agreed that the 1st man/1st lady shields at the XC championships be renamed the 'Tony Hall Memorial Shields'. JT to seek the approval of Alwen Hall before any action is taken.

ST requested suggestions for a charity/organisation to receive a donation of £500 from 2012 GF profits.

Pay any outstanding subs to Treasurer (PH)

Collect free beer and T-shirts!!
Club Chairman Stephen Howard closed the meeting at ~9:20 PM.
ST 08.03.2013