ELY RUNNERS' STRAIGHT MILE HANDICAP, QUANEA DROVE, ELY, TUESDAY 23rd AUGUST 2005
| | | | |
| --- | --- | --- | --- |
| | | | |
| Rachel Kiff | Don Brown | Alex Tate | Natalle Coles |
Rachel Kiff overall handicap winner and Don Brown male handicap winner
Alex Tate fastest male and Natalle Coles fastest female
Chris Rayment overall 1st age related runner and Natalle Coles 1st age related female
Twelve members achieve all-time personal bests and nine members club category records
There were 26 Ely Runners in this hotly contested club event over a straight and level road course. They found racing a straight mile required lung bursting effort and pace judgement but, such was the enthusiasm and competition, 12 members achieved personal best times and 9 members club category records. Full results:
Name

Estimated Time

Actual Time

Percentage

Age Graded
%

Overall Position

Handicap Position

Rachel Kiff

7:00

6:16.11

111.70%

67.18
18th/ 2nd lady

1st

Don Brown

8:00
7:28.68
107.14%
64.52
20th
2nd
Jaime Gallagher
7:30
7:01.57
106.76%
59.00
19th/ 3rd lady
3rd
Natalle Coles
6:15
5:54.24
105.93%
70.33(14)
14th/1st lady
4th
Keith Mitchell
5:55
5:38.93
105.02%
74.63(8)
11th
5th
Peter Gipp
5:20
5:05.87
104.91%
78.97(2)
5th
6th

Julie Foreman

8:40

8:16.40

104.84%

50.53
25th/ 8th lady

7th

Graham Chapman
5:55
5:39.52
104.71%
74.41(9)
12th
8th
Ian Day
5:15
5:03.62
103.96%
75.62(5)
3rd
9th
Mat Ward
5:30
5:19.02
103.44%
71.08(11)
6th
10th
Mary Gates
8:30
8:13.81
103.33%
53.66
24th/ 7th lady
11th
Hayley Rutterford
9:00
8:46.78
102.59%
61.69
26th/9th lady
12th
Torsten Lytken
5:30
5:26.34
101.22%
71.51(10)
8th
13th
Charlie Barker
5:55
5:53.14
100.56%
74.68(7)
13th
14th
Peter Harris
6:15
6:14.93
100.26%
70.90(12)
17th
15th
Lana Chalmers
7:30
7:31.71
99.77%
56.77
21st/ 4th lady
16th
Adam Etches
5:20
5:22.81
99.37%
69.47
7th
17th
Max d'Ayala
5:02
5:04.93
99.34%
76.96(3)
4th
18th
Darren Murfitt
5:33
5:37.71
98.81%
69.95
10th
19th
Chris Rayment
4:59
5:03.30
98.67%
80.94(1)
2nd
20th
Stephen Howard
5:30
5:35.52
98.50%
70.88(13)
9th
21st
Sarah Sharpe
7:35
7:42.74
98.48%
54.13
22nd/ 5th lady
22nd
John Turner
6:00
6:11.52
97.03%
74.80(6)
16th
23rd
Alex Tate
4:40
4:53.49
95.56%
76.58(4)
1st
24th
Tim Bedford
5:40
5:56.96
95.50%
63.95
15th
25th
Chass Matharu
7:20
7:55.37
92.63%
54.90
23rd/ 6th lady
26th
All-time personal bests were achieved by: Rachel Kiff, Jaime Gallagher, Natalle Coles, Keith Mitchell, Julie Foreman, Graham Chapman, Mary Gates, Hayley Rutterford, Torsten Lytken, Charlie Barker, Lana Chalmers, and Max d'Ayala.
Club category records were achieved by Alex Tate (SM), Natalle Coles (SW), Lana Chalmers (FV35), Peter Gipp (MV40), Mary Gates (FV40), Chris Rayment (MV45), Charlie Barker (MV50), Peter Harris (MV55), and John Turner (MV60).
The racing surface was uneven in places but the weather conditions were good, being moderately cool with hardly any wind.
---
ELY RUNNERS' 10K HANDICAP ROAD RACE
2007
Win for Margaret Bracewell in her first 10k race
Fastest time in MV35 club record and personal best for 2nd place Glyn Loveday
Personal best for 3rd place (2nd man) Steve Barker
Mary Gates 2nd woman and Siobhan Palmer 3rd woman in personal best
Ian Day 3rd man
Personal bests for 13 Ely Runners
Terry Braverman 1st guest runner
Margaret Bracewell beat her 54:00 handicap time by 41 seconds (in her first 10k) to narrowly win in 53:19 by 4 seconds ahead of rapidly closing Glyn Loveday, who was the fastest runner in an MV35 club record and PB of 34:53. This was 37 seconds ahead of his handicap time of 35:30. Steve Barker was 3rd in a PB time of 40:32 which was 28 seconds ahead of his handicap time. Terry Braverman was 1st guest runner (24th overall) in 48:42.

The 13 Ely Runners with PBs were:
Glyn Loveday 34:53 Club MV35 record by 1 min 4 secs
Stephen Pettit 38:13
Steve Barker 40:32
William Wilson 43:07 1st 10k
Chris Bower 46:12 1st 10k
Fraser Badcock 48:33
Melanie Fisher 50:32 1st 10k
Simon Bottomley 51:36 1st 10k
Margaret Bracewell 53:19
Siobhan Palmer 55:58 1st 10k
Rebecca Mosley 56:09
Arlene Heynes 1:03:17 1st 10k
Leyla Prince 1:05:34 1st 10k

Tight handicapping made for a thrilling finish as 36 runners and 1 walker (31 Ely Runners and 6 guests) of all speeds converged towards the end of the race.
Conditions for the mainly level course, via California, Dunkirk, and Pymore, were quite good, being warm and wet with light rain.
After the race, Chairman Peter Gipp presented the awards at the Prince Albert pub in Ely.
Thanks are extended to Rod Baron (entries, timekeeping and results), Peter Gipp (course marking, water station and clearing), Darren Murfitt (marshals), Emma Greaves (entries, results and finish line), Angela Chapman (entries and finish line), Alan Rutterford (marshal), Julie Foreman (marshal), and Sophie Gates (photography).
---
2006
Brian Partridge wins club handicap, Alex Tate fastest runner & Terry Braverman 1st guest
Fine runs by Heidi Fochtmann 2nd, Glyn Loveday 3rd & Peter Gipp 4th
Personal bests for Brian Partidge, Heidi Fochtmann, Glyn Loveday, Peter Gipp, Karlos Dedos, Steve Tovey, Natalle Coles, Rachel Roberts, Graham Chapman, Matthew Ward, Julie Foreman, Christine Drewe and John Turner (walk)
Club records for Natalle Coles (SW) and John Turner (MV60 walk)

Brian followed closely by Heidi

There were 27 Ely Runners and 4 guests in the time staggered start for the club's annual handicap race on a fast one lap loop to/from Lt Downham via Pymore. Conditions were ideal for running, being mild, still and overcast which probably contributed to several personal bests in this hotly contested event.

Brian Partridge, fresh from mountain training, won in 1:59 below his handicap time closely followed by Heidi Fochtmann (-1:42), Glyn Loveday (-1:29), and Peter Gipp (-1:26) with 9 others (see results attached and below) ahead of their handicap time. Most of the rest were not far behind their handicap times.

Organisers and helpers were: entries and results Rod Baron, timekeeping Peter Harris, first aid Max d'Ayala, drink station/photography Simon Jackson, start/finish photography Sophie Gates, course marking Peter Gipp, en route monitoring Adam Etches, and handicap times John Turner.
After the race everyone enjoyed sandwiches and chips in the Prince Albert beer garden where Chairman Peter Gipp awarded the winner's perpetual shield to Brian Partridge with a bottle of wine plus bottles of wine to fastest runner Alex Tate and 1st guest (walker) Terry Braverman of Newmarket & Enfield clubs.
---
2005
Ian Vaughan-Arbuckle wins in Male Vet 65 club record and personal best time
Alex Tate fastest Ely Runner and five other members achieved personal best times
There were 26 Ely Runners and 6 guests starting at a range of handicap times to race over the club's popular New Year's Eve 10k course via Pymore to come together in a hotly contested finish outside the Village Hall in Little Downham.

Improving Ian Vaughan-Arbuckle showed scant regard for his 67 years to win this hotly contested club event 33 seconds ahead of 2nd place Max D'ayala.
In 3rd place was Graham Chapman (+50 secs) and 4th place (1st woman) was Julie Foreman (+1 min 13 secs). The first guest runner was Claire Law who was 2nd overall.
The fastest Ely Runner was Alex Tate (6th Ely Runner) who finished in 33:46
Personal best times (in finishing order) were achieved by the following Ely Runners:
Ian Vaughan-Arbuckle 49:49 (MV65 PB)
Graham Chapman 43:09 PB
Julie Foreman 1:03:32 PB
Peter Harris 47:34 (MV55 PB)
Lana Chalmers 53:55 PB
Natalle Coles 43:59 PB
Conditions for the mainly level course were warm and slightly humid with a light wind.
After the race, the winner's shield was presented to Ian Vaughan-Arbuckle and fastest runner prize to Alex Tate at the Prince Albert pub in Ely.
Handicap Result Actual Time Results Age Graded order
---

2004
This 2004 event took place on Thursday 17th June and there were 61 finishers in the hotly contested annual event. In addition to Ely Runners and personal guests, the club invited St Radegan Hash House Harriers from Cambridge to take part. First Ely Runner to finish was Karen Foreman in a PB time of 47:15 which was 2:45 ahead of her handicap time. After the race at The Price Albert, Ely she was presented with the Club's perpetual 10K Handicap shield by Chairman Peter Gipp.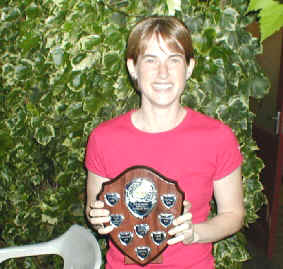 (Karen with the winners shield 2004)
First guest finisher was Fiona Regan of St Radegan HHH in 47:59, a full 12:01 inside her handicap time!! The fastest runners were Stuart Holmes and David Bettison both from St, Radegan HHH and both in 36:07. The fastest Ely Runner was 2nd claim William Clapp in 36:09.
---
2003
On Thursday 12th June 2003 the club invited friends to take part in the annual 10k handicap race. There were 30 runners competing over the single lap New Year's Eve 10k course. Congratulations to overall winner Deborah Jennings and close second John Allen. Also to Peter Gipp for an excellent fastest time of 36:34 which almost won him the event.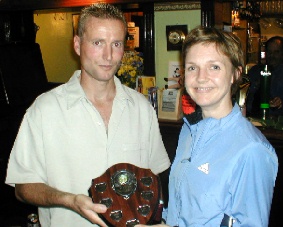 (Deborah receiving the winners shield from Peter Gipp)
The standard of competition was high and seven members achieved personal best times: Peter Gipp, Torsten Lytken, Stephen Howard, Matthew Hall, John Crisp, Alan Rutterford and Deborah Jennings. Conditions on the evening were good, being mild and still.
After the race competitors enjoyed sandwiches and drinks at The Prince Albert in Ely, where Deborah Jennings was presented with the club's perpetual shield by Club Captain Peter Gipp for being the first Ely Runner to finish. Deborah's success was well deserved as she was over 4 mins inside her handicap time, and she also ran a personal best time for the distance.
Thanks to Eric Drury for marking the course and providing finish drinks, Savage Haulage for the drinks at Pymore, William Clapp for being the handicapper, Charlie Barker and last years winner Tanya O'Reilly for starting, time and place recording.