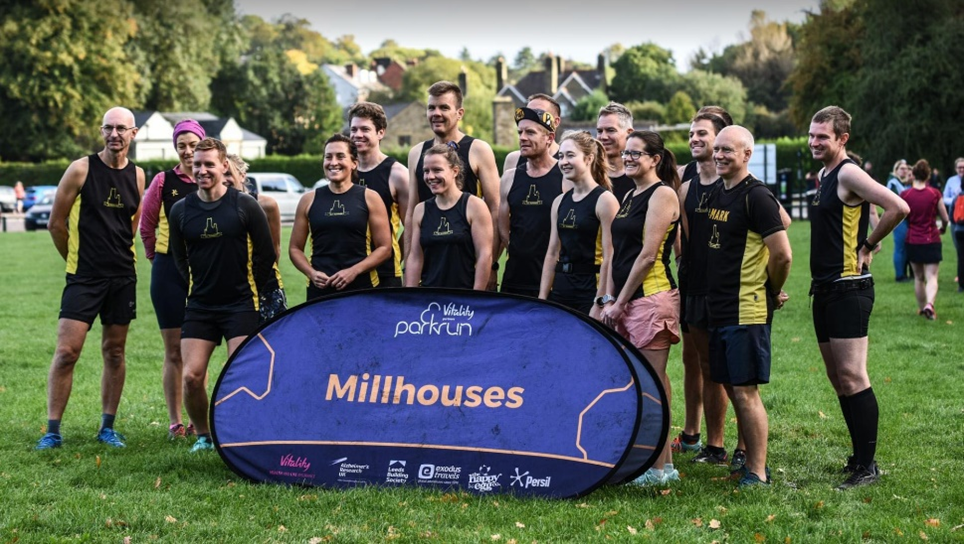 Run 2 (Millhouses parkrun, 5k) >>> Sam had scoped it out and suggested that we should do Millhouses parkrun on the edge of Sheffield. It was officially a 'Hard of Hearing parkrun takeover' with both the first timers and welcome briefings being signed. Ely Runners got a mention as tourists (as, times 17, we were quite an imposing sight) and it was fun to see 'Ely Cathedral' being spelt out in BSL. We had planned a parkrun takeover of our own, with early intent clearly signalled by Tom, Baz, Aaron and Bethan locking out the front row.
Millhouses is a fun and friendly three-lap course set in long park. With the winner today setting a new course record (in a 'different-league' time of 15:06 that was quite something to witness) it was up to Baz in third place and Tom (fourth), plus Aaron, Alec and Bethan keeping it strictly alphabetical in positions 8, 9 and 10 to secure five (count 'em!) Ely Runners in the top ten finishers. Parkrun takeover mission complete, I'd say!
There was enough time to pose for a team photo for the Millhouses run report, and then it was all units back to base and a second breakfast for most before a full turnout for what was billed as a 'between-run restorative swim' in the quaint Hathersage heated lido. We quicky concluded that this definition of 'heated' was maybe aimed at a slightly hardier and more northern audience as we fragile Fen folk were all shivering within 30 minutes and any swimming still happening was purely in a bid to keep warm
Run 3 (The Great Ridge, 14.5k) >>> Saturday's main run was a loop taking in the Great Ridge (a continuous ridgeline between Lose Hill and Mam Tor) and the dry limestone valley of Cave Dale. Parking up in the village of Hope, we started climbing as soon as we ducked through a snicket and left the road to hit the stone-pitched tree-covered path, on through several stiles and up and up to one false summit after another. It was mostly runnable all the way – hey, it was early / we were keen! - but some stretches were walked up by all, if only to take in the breath-taking views.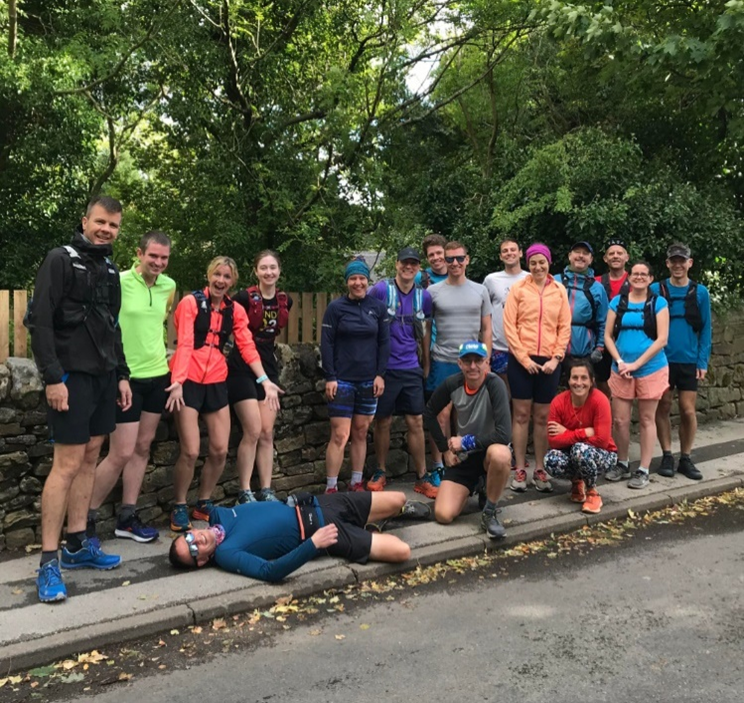 This is Ali, BEFORE the Great Ridge…
Separating the Edale and Hope valleys, the Ridgeline Horseshoe acts as a boundary between the Dark Peak gritstone moorland and the White Peak limestone dales to the south (which we'd be exploring more of tomorrow) and offered amazing views at every turn. Off in the distance was Hope Cement Works (as seen in the Channel 4 ident), Britain's largest cement plant but relatively tiny from our distant viewpoint.
As we continued running across the ridgeline with incredible panoramas both left and right, there were natural regrouping stops at various trig points including the top of Back Tor so we all stayed together quite easily.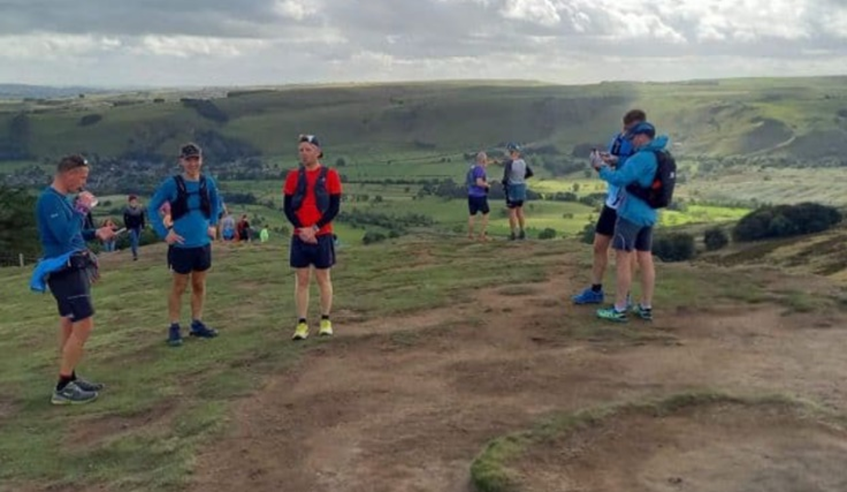 ↑ PS Plumbing Services – never not working
It was here that Tom and Paul could be seen deep in conversation while consulting Paul's phone (most likely discussing how best to tackle the short but steep descent ahead of us we figured, or perhaps the finer points of the local geological formation?) but it turns out that this was actually PS Plumbing Services on 24-hour callout at the top of the mountain with Tom making the most of his retainer and Paul offering handy ballcock tips while giving new meaning to the phrase 'working remotely'. (PS - other plumbing services are available).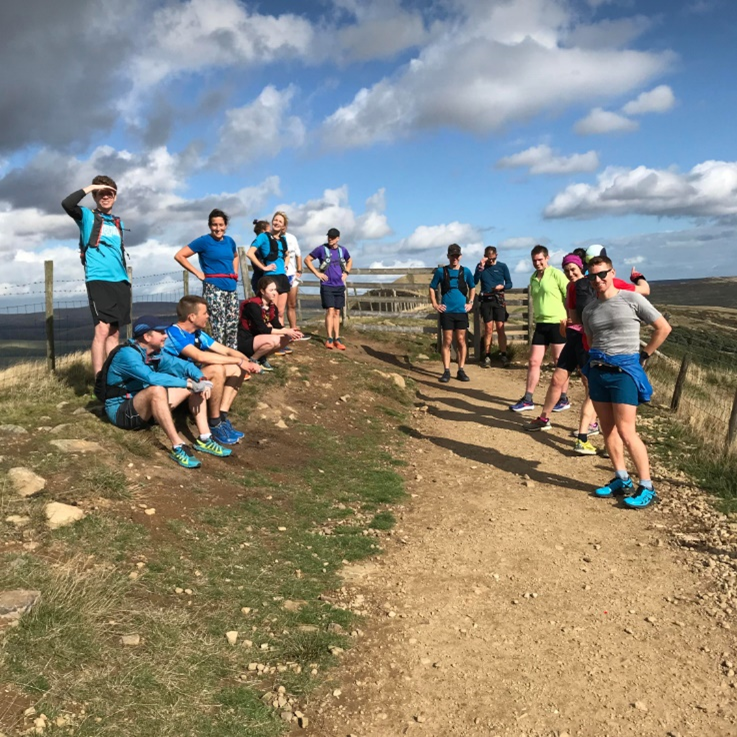 ↑ High up on the Great Ridge
Dropping steeply down off Mam Tor and crossing the lane at Mam Nick saw a split in the group with nine rash ER hares rushing off ahead – maps unchecked - on a diagonal footpath over the crest of a hill, with the following group of eight (let's call them the tortoises) taking the correct route of the Rowter Farm driveway. With FB Messenger contact made, the agreement was that we'd meet at The Cheshire Cheese pub in Hope with Aaron confidently throwing down a 'Last group buys the beers!' gauntlet.
Of course, as every reader of Aesop knows, the tortoises went on to win the race, whilst taking time to enjoy the delights of a slow-but-surefooted descent through the very impressive and vertiginous Cave Dale, to casually stop and ponder the imposing ruins of the 11th c. Peveril Castle perched high on a limestone outcrop, why for Laura L to even detour and grab an Iron-Bru in Castleton ('you can take the girl out of Edinburgh…') before then steadily traversing a series of fields, farms and stables, and crossing a string of quirky small boardwalk bridges in ever-worsening states of repair that had Peter and Zoe reminiscing about the board game Mouse Trap. The running was now mostly flat and navigating was easy zigzagging, but we were all by now ready for a drink and a sit down.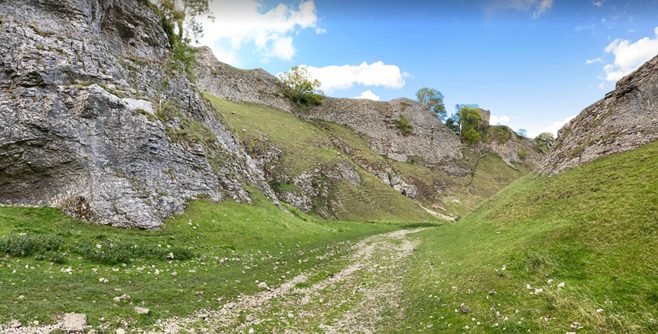 ↑ Cave Dale
Meanwhile… the breakaway group were still haring across the landscape and quickly turning a shortcut into a longer and slower route as they realised that, having met a certain natural and vertical topographical challenge, in order to continue their linear path to the pub they would need to, erm, employ a handily-right-there rope and abseil down a cliff-face! Which they sure enough did (having first abandoned all hope of reaching Hope first, no doubt) with John leading the charge.
With both groups now safely as one in the snug of the pub, many pints were pulled but (as Aaron's challenge was just good-natured banter and quicky forgotten) there were to be no winners or losers (hey, we're ALL honorary members of Team Leach [where 'Every 1's a winner baby, that's the truth'] this weekend!) as we're not here to score points (unless of course you are Mark 'Ma' Bell as he got it together earlier to quickly respond to an obscure Beastie Boys reference from Peter with an even more obscure Beasties lyric, thereby scoring 11 points 'for the word QUAGMIRE').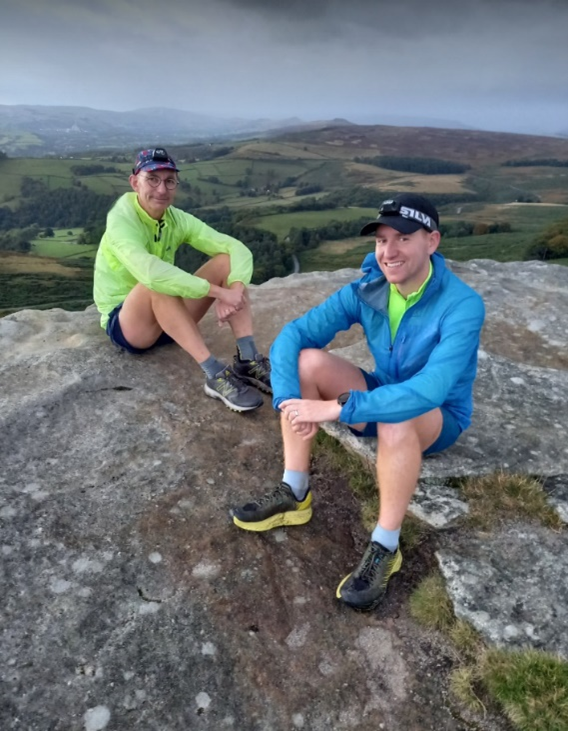 ↑ Pete and Aaron up on Stanage Edge
Run 4 (Stanage Edge, 8k) >>> Back at ER HQ and with meal prep seamlessly underway and Alec blowing up the spot with his giant Jenga skills, the (fool) hardy trio of Peter, James and Aaron decided that yes, a third run of the day was in order. Parking up at Dennis Knoll Car Park just a short drive from St Michael's, it was a quick blast up to the Stanedge Pole and partly back down, to then turn left and steadily gain height, running and jumping along the very forgiving and large gritstone rocks of Stanage Edge - great fun! There was to be no calling out of hazards here though, it was every man for himself. After passing a solo wild camper pegged right on the cliff edge, and with daylight fading and dark clouds gathering, we reached Robin Hood's Cave and decided this was as good a turnaround point as any so after a few peeks over the sheer drop edge, we started our descent back the way we'd came, each carving a unique path down across the generous expanse of rock gaining speed and trying (but ultimately failing) to beat the imminent and chilly downpour, arriving back at the car soaked through.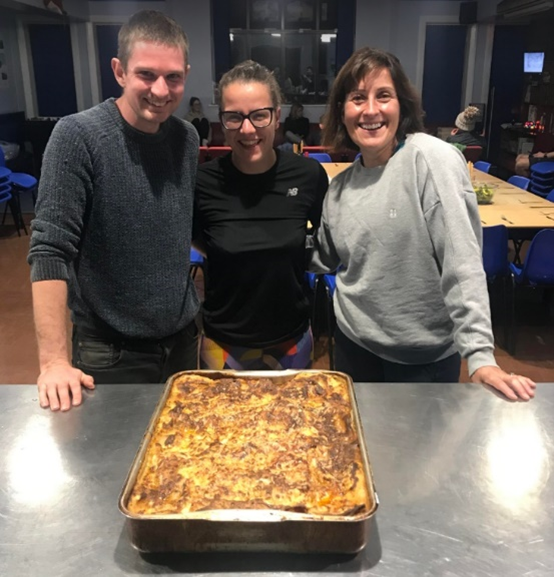 ↑ A real team effort
Sam, Bethan and Zoe had cooked the madre of all beef lasagnes which, along with an equally delicious looking spinach and ricotta option prepared by Janet, Mark and Laura U, saw an orderly queue of hearty appetites quickly assemble at the serving station. Plates piled high with lasagne, salad and crusty bread were quickly devoured, and most were up for seconds within minutes.
As the red wine flowed and more beers were opened, Sam's catering jug of Scrumpy was by now almost a quarter down. The 'seats 18' layout allowed for cross-table discussion of the day's events, but it also led on to much mirth such as when James innocently asked Baz, 'Have you got an all-boys downstairs bit?' ('we think' in relation to the new ground-floor shower block at Baz's school but we're not totally sure) or when Zoe explained about 'Level 1 swearwords', where different levels of acceptable swearwords were gradually introduced at home in a bid to ease the children in gently.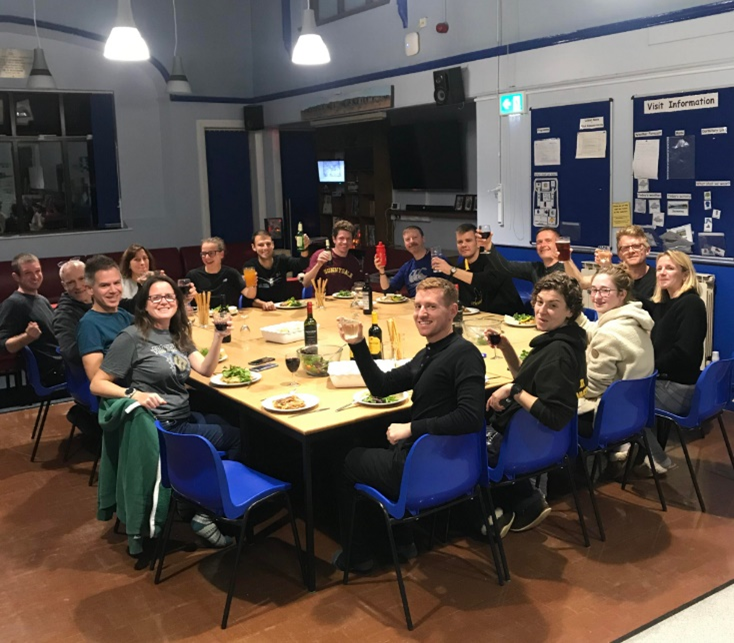 ↑ Cheers!
As only Mr Woodward would, Baz our resident maths teacher wittily re-imagined these swearing levels as times tables to much hilarity, whereupon Mark upped the ante somewhat and dashed off a few entertaining off-colour equations, probably best not repeated here and left as, 'What goes on Mam Tor…'
The evening meal was topped off with a Terrific Tiramisu (Pete's words) and out of nowhere Ma Bell proceeded to treat one side of the table to an impromptu and word-perfect rapped rendition of the lesser-known Carter USM album track '24 Minutes from Tulse Hill'. As some folk started drifting off to bed, others drifted over to the kitchen bar top and enjoyed a round of Kahlua on the rocks. All in all a great day, and while the running and the surroundings are key components of the weekend away, sharing it with like-minded friends is just as memorable.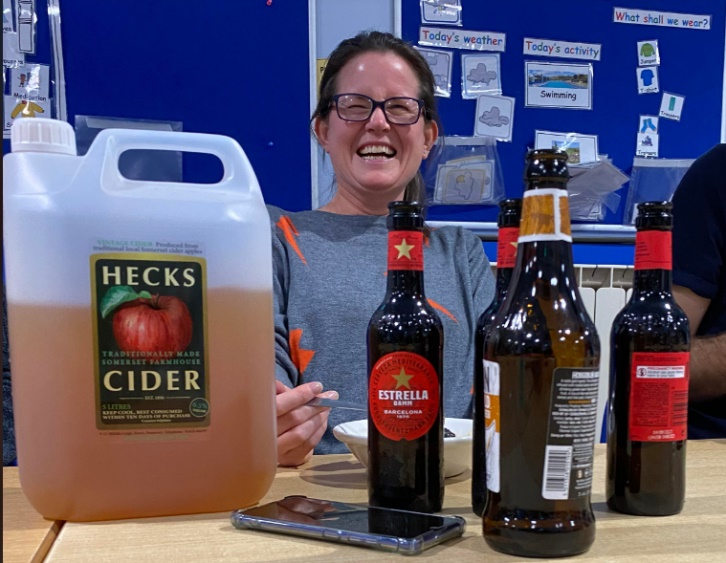 ↑ Only a few litres to go, Debbie